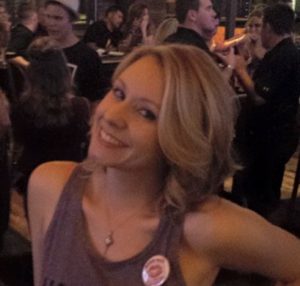 Christina Gabler, Au.D. helps patients in our Mesa office. She has been practicing Audiology at the Mesa location for a couple years.  Prior to AHG, she worked with the ENT patients.  She has completed clinical rotations throughout the Phoenix valley, as well as 1 ½ years at the Nevada School of Medicine and the Clark County School District. She has worked with patients ranging from 8 hours to over 100 years old.
Dr. Gabler is a native Phoenician, having attended High School at Sunnyslope High in Phoenix, AZ. She obtained by undergraduate degree in Speech and Hearing Sciences with a minor in Deaf Studies at The University of Arizona in Tucson, AZ.  Her Clinical Doctor of Audiology degree was obtained from A.T. Still University in Mesa, AZ. Completing graduate school and buying her own home are accomplishments that top of the list of her proudest moments.
Before pursuing her doctorate in Audiology, she was a speech therapist at a school for special needs children in Phoenix.  Dr. Gabler believes her four (4) years of experience at that school helped her to be a better practitioner today.
Dr. Gabler dreams of traveling the world.  In fact, one of her most ardent dreams is to eat and drink her way through Italy! It will happen someday! Her favorite thing to do is to play with her 3-year-old black lab/shar pei rescue and 1 ½ year old Maltese.  She is a crafting queen and love to hunt for good ideas and recipes on Pinterest.  She enjoys being outdoors and spending time with friends.
Dr. Gabler's lifetime goal is to help as many people as possible. For her, the most rewarding part of her career it to see a person reconnect with their family through better hearing. Her motto is simple; laughter is always the best medicine and if you can't laugh at yourself, you are missing out.